ADIL ZAINULBHAI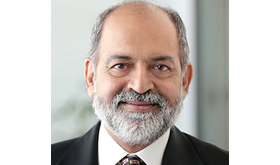 Adil Zainulbhai is a mechanical Engineer from the 1977 batch of IIT-Bombay and a post-graduate from Harvard Business School – he is currently President of HBS's alumni association in India.
Adil Zainulbhai retired from McKinsey India as its chairman after 34 years with the legendary consulting firm, 24 of which were in the US. Zainulbhai joined McKinsey in 1979 straight out of HBS; he set up the Minneapolis, Minnesota, office and later led the McKinsey office in the US capital of Washington D.C., helping clients across sectors as diverse as telecommunications, consumer electronics, energy, banking, infrastructure, and healthcare.He returned to head the India office out of Mumbai in 2004, and is still a senior advisor to the firm.
He also serves on the advisory boards of the Indian Institute of Technology Bombay, the Wockhardt Foundation, and the Health Management Research Institute, as well as on the global advisory board of the Booth School of Business at the University of Chicago.
Continuing his efforts to fortify the 'Made in India' brand, Prime Minister Mr. Narendra Modi has got Mr. Adil Zainulbhai to head the Quality Council of India (QCI). The agency is an autonomous body charged with becoming one of the world's top quality facilitation, accreditation and surveillance organisations. The Council is mandated with continuously improving the climate, systems, processes and skills for quality in areas like education, healthcare, environment, infrastructure, governance and social sectors.
Adil Zainulbhai is also deeply concerned with strengthening India's public sector and contributing to the nation's development, and works closely with senior government leaders to drive growth and raise living standards. In that sense, his latest appointment is a formal extension of what he has already been doing in as a private citizen.
---