Mrityunjay Jena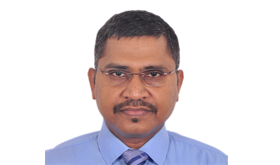 Mrutunjay Jena is currently Director, National Accreditation Board for Certification Bodies (NABCB), a constituent Board of the Quality Council of India (QCI), which is India's national accreditation body and is part of an international system of equivalence of accreditations and certifications. NABCB accredits certification bodies for ISO 9001, ISO 13485, ISO 14001, OHSAS 18001/ISO 45001, ISO 20000-1, ISO 22001, ISO 27001, , ISO 37001, ISO 50001, Product certification (ISO/IEC 17065), Certification for Personal (ISO/IEC 17024) and Inspection bodies (ISO /IEC 17020) as per applicable international standards and has accredited more than 80 certification bodies and more than 60 inspection bodies in India.
He has Overall 26 plus years of experience in the field of Quality, working in management systems certification including 12 plus years in National Accreditation Body (NABCB). Developed third party evaluation mechanisms for regulators such as Petroleum and Natural Gas Regulatory Board, National Horticulture Board and Warehousing Development and Regulatory Authority.
Actively participated and contributed as a member of technical committee in development of QCI voluntary certification scheme "ICMED 9000" & "ICMED 13485" for medical device manufacturers- a unique and first such scheme in the world.
Actively involved in various ISO technical mirror committee for development of ISO standards. Active member of various technical committees of BIS like CHD 34, MED 39 etc in development and review of management/technical standards.
Also involved in drafting of ISO 50003 standard on Energy Management Systems for auditor competency as an expert to ISO/TC 242.
Successfully developed and operated various management system accreditation schemes including OHSMS as per 45001, MDQMS as per ISO 13485, ISMS as per ISO 27001, EnMS as per ISO 50001, ITSMS as per ISO 20000-1, RTSMS as per ISO 39001, TDRMS as per ISO 16363, BCMS as per ISO 22301 and ABMS as per ISO 37001.
He has been on the active empanelled list of UNFCCC CDM-Assessor since 2010 and undergone various training/workshops on CDM standards, accreditation processes of Clean Development Mechanism, conducted by UNFCCC, Germany.
He holds master degree in Business Administration and Post Graduation Diploma in Industrial Safety after his Batchelors in Electrical Engineering from Government Engineering College, Talcher.
---