SHALINI CHAKRAVORTY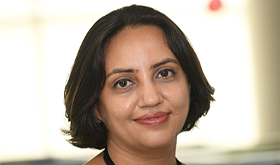 An alumnus of INSEAD, a Chartered Accountant, a CFE and an honours graduate in commerce from Hansraj College, Delhi University.
Starting her journey as a consultant, she became Country Manager in a few years in her previous role. Currently, she is working with the worlds' largest retailer across continents leading cross- functional teams.
Internationally experienced Businesswoman with P&L management experience in designing, developing and deploying strategy, with demonstrated ability to deliver results and lead multicultural teams across Asia, Canada, UK, Africa & Latin American Countries. Distinctive competency and experience in high-impact Senior Leadership roles including Optimizing Technology & Expenses, Process Improvement, Project Management, Ethics & Compliance Program, Combating Integrity & People Risk, Change Management, Coaching/Mentoring and building high performance teams.
She was awarded "Business Leader of the Year – Commendable Young Women" for exceptional performance and achievements by The Institute of The Chartered Accountants of India. She is very passionate towards "Diversity & Inclusion". Passionate about economically empowering women, She leads the markets' women forum which works towards hiring, retaining and engaging women in the workforce and supports the company in investing women externally. This has earned her a place in the Global Diversity Council. She led the movement and helped achieve her organization to be in "Top places for women to work". She believes in giving back to the society and visits various universities in India as a "guest lecturer".
Specialties: Leadership | Business Strategy | Assembling, leading and inspiring talented team members | Persistence | Optimism | Energy | Operational Management | Change Leader | Manage Cross-divisional International Teams | High emotional intelligence, strong people skills and ability to empathize with others
---