SIDHARTH PANSARI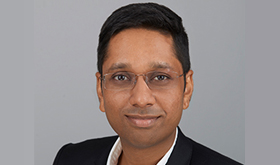 Sidharth, an alumnus of Harvard Business School and St. Xavier's Kolkata is a young, seasoned and dynamic entrepreneur with an unquenchable thirst for knowledge and corporate best practices.
In a career spanning over 15 years, he has donned various hats, within several wings of the Primarc Group. Being the Managing Director of Primarc, he assesses, understands and develops consumer insights into meaningful businesses for the group.
Primarc is a leading business group in Eastern India with diverse interests in Retail, Hospitality, Real Estate, Ecommerce & Omni Channel Logistics.
A fervent angel investor, Sidharth believes in entrepreneurship and supports startups, guides early stage investments and offers support & mentorship to startups. Sidharth is a part of several start up forums and was the President of Calcutta Angels (2016-17).
Businesses:
Real-estate & Infrastructure:
· Primarc Projects: Primarc's endeavor is to create happy communities by building homes with best in class features. We design architecture that promotes community and holistic living. Within a short span, Primarc has emerged as a strong brand in the realty industry for relevant, best in class and value for money products with on time delivery and customer first approach.
· Junction Mall: Sidharth has co-developed Junction Mall at Durgapur and today, it is the favourite shopping destination of people in the region. Junction Mall has 200+ national and international retail and F&B brands to offer.
Retail:
· Primarc Story Venture (P) Ltd: An avid reader and booklover, he founded the Crossword bookstore in Bengal. The business is now operating under the STORY brand in Kolkata.
· Primarc Retail Store: As the Director of Primarc Retail Store (Raymond and Apparel business), Sidharth has contributed towards the expansion of the Raymond textiles business, currently the Group has extended their presence to 37 apparel and textile stores across the country.
E-retail:
· Sidharth has also co-founded Primarc Pecan, the omni-channel logistics venture which focuses on the e-retail, distribution, web stores and private labels.
---