SUHAS RISBOOD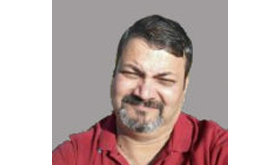 Suhas Risbood, with more than 35 years of industrial experience is a Post Graduate in Chemistry with specialization in drugs and submitted his postgraduate project on synthesis of Vitamin B6.
He also studied operation management and has spent more than 20 years in the field of QHSE and TQM. Mr. Risbood leads a team on QHSE Performance Improvement methodology, implementation of TQM process, certification services, conducting training programs on various topics such as TQM, Quality circles, Zero defect, Quality improvement process, ISO 9000, ISO 14000, ISO 22000 and OHSAS 18001. He has a great flair for training and is a most sought after trainer. He has personally conducted more than 250 programs covering around 10,000 participants in India and abroad. He also pilots activities like Environment due diligence and Supplier evaluations.
Suhas has been involved with system certification and advisory services for last 21 years. He is a multifaceted professional. He is the Managing Director with a global system certification body and is responsible for the Indian Subcontinent, Middle-East and African operations. The company has certified more than 1000 clients in India including many of the India's top 500 companies. He is also a director for an advisory firm and is involved in Performance Management System through an integrated growth and monitoring mechanism; CDM and Carbon Credits, Carbon footprint, HSE systems, training and implementation. Suhas is also involved in CDM advisory and energy solutions.
Suhas is also a promoter director for a manufacturing company involved in Health Foods. The company is involved in manufacture of various types of biscuits and bakery products. Suhas was involved with plant design and erection in compliance with FDA requirements and industry practices. He is routinely involved with development of new products and manufacturing operations. The company markets its products in domestic market and also exports its products. He has keen interest in organic farming and has focused himself in health foods for infants and old age.
Suhas was instrumental in developing a Business Excellence Model for an international miner head quartered in Antwerp with an objective to raise the performance level of the Indian Jewelry and Diamond manufacturers and retailers. The model addressed the various parameters for improved performance. The model has been accepted by more than 85 industries.
Suhas has also authored a business model viz. Trust Maturity Model for Gem and Jewelry Sector. The model is published by Gem and Jewelry Federation in Sep 2013 and many businesses have started implementing the same.
Suhas has demonstrated the effective way of implementing ISO 9000 and 14000 both as an assessor as well as an implementer. Again he is one of the most respected assessors in the field of Quality Management System (ISO 9001), Environment Management System (ISO 14001), Occupational Health and Safety Series (OHSAS 18001), Services Management (ISO 20000), Food Safety Management System (ISO 22000) and Energy Management System (ISO 50001). Suhas is also qualified for carrying out BRC audits. Suhas was involved with three certifying bodies as Director of the firm and have been the core resource for the accreditation.
Suhas was working with Chemical industry leaders in the Pilot plant studies, Production, Technical services and Effluent management in the pigments, pharmaceuticals, pesticides, bio-fertilizers, printing inks and plastic molding sectors. Suhas was a member of multi product agrochemical production plant commissioning team. He has also experience in printing inks and resin plants from the project stage and was involved in project feasibility studies, factory layout, equipment planning and sourcing etc.
He has carried out more than 4000 audits in India and abroad in various sectors. Suhas has worked on 6 CDM projects involving energy conservation, alternate energy generation, bio-waste. He also consults on ISO 14064 and ISO 14046. He is IRCA approved tutor for Lead Auditor courses for ISO 9001, ISO 14001 and OHSAS 18001 and has conducted more than 15 LA courses.
---