Satish Saini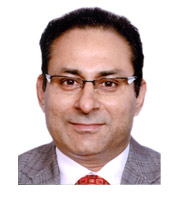 Mr. Satish Saini holds a dregree in MBA. Over 23 years of documented record of decisive executive leadership in well known organisations. Currently associated with  Liberty Shoes Ltd. At Gurgaon since August 2007 as CFO and Head Commercial (Retail).
By way of holding responsible positions across the career span, he has developed practical understanding of business management aspects encompassing Finance & Accounts, Commercial which includes finalisation of business plans, commercial terms of lease agreements and with other various vendors.
He has proven abilities in managing Finance & Commercial working with focus on maximisation of value.
He expertise in managing Liaison work through effective relationship management skills; handling critical issues and resolving them with ease.
He is an enterprising leader with excellent negotiation, decision making and organisational skills.
He also expertise in managing budgets, variance analysis and implementation of corrective actions.