K RADHAKRISHNAN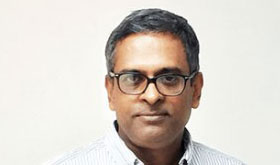 "Radha" as he is popularly known, has been a corporate citizen for 34 years, with an impressive track record, in a variety of industries. Radha was ranked among the top in his graduation and Post Graduation in Economics, Econometrics and Statistics.
Work Profile : a Career in Food Retailing, FMCG, and Distribution and Logistics & Retail Ecommerce Start Up, Management Consulting.
Presently….
2014 to Date, Radha is now the Co-Founder of www.Grocermax.com and online grocery store, based in Gurgaon , moving to become a pan India player. Grocermax is now pan NCR.
His previous roles were as the President in Future Group looking after the Fruits and Vegetables Business as well as the formats of KBFP and Big Apple.
He was also the CEO of the Reliance Retail business from 2006 to 2010.
Earlier in 1998 to 2006- he was VP at Spencer's Retail. Decades of experience in start up industries.
He also had a long stint in manufacturing in Indo Nissin Foods a Unilever company at that time and launched Top Ramen and CupNoodles, two Japanese noodles brands.
He has worked a wide range of other industries – aquaculture, seafood exports, and Tea tasting.
Radha is a trustee of Sankalp a School for Autistic and Learning Challenged children.
---