K.K. GUPTA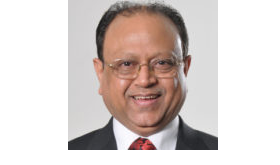 A Graduate in Electrical Engineering and Marine Engineering.
Started his career with The Shipping Corporation of India in 1979.
Served on board the ships (Merchant Navy) as a Marine Engineer for 10 years.
Joined Lloyd's Register of Shipping in 1989.
Carried out survey of ships, inspection of industrial equipment, quality audits and services as Authorized Inspector for ASME Coded Boilers & Pressure Vessels for 17 years.
Joined Tata Projects in November 2006.
Worked as Executive Vice President and Business Head for TIC (Testing, Inspection, and Certification) Business. Superannuated in Oct 2015 as COO.
Currently Director in various subsidiaries of Tata Projects:
Director of JV Companies (TPL-TQA Quality Services) in Mauritius and South Africa.
Director FoodCert India Pvt Ltd.
---