RAMESH KOREGAVE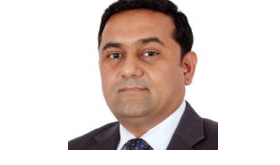 Ramesh Koregave is the Director – Strategy and International Business of Quality Austria Central Asia. QACA is a joint venture enterprise of Austria based Quality Austria – Trainings, Zertifizierungs und Begutachtungs GmbH (Quality Austria Training, Certification and Evaluation Ltd.) and Peacock Global Company, New Delhi.
Ramesh holds a Bachelor Degree in Mechanical Engineering with Business Management qualification and has more than 25 years of experience in the fields of Engineering, Service sector with Production engineering, Profit Center Operations, Strategy Management, Marketing & Sales, Key Account Management, Audits and Assessments under Testing, Inspection and Certification (TIC) with reputed MNCs such as TUV, KPMG, Germanischer Lloyd, Bureau Veritas. Ramesh holds various qualifications as in ISO 9001, ISO 14001, OHSAS 18001, automotive scheme TS 16949 and Energy Management Systems ISO 50001.
Currently with Quality Austria Central Asia Pvt. Limited based in Mumbai as a "Director Strategy and International Business", he is responsible to drive a business within PAN India and Central Asia towards Certification, Training and Industrial Services. Quality Austria Central Asia Private Limited (QACA) is a joint venture of Quality Austria, Vienna and Peacock Global Company, Delhi. QACA is one of the leading & fastest growing Certification, Training & Inspection Agency in the field of Health, Safety, Environmental and Business Quality and have a global presence in 12 countries.
-Director with Bureau Veritas India Pvt. Limited – Certification Business (Previously known as BvQI) in Mumbai. Bureau Veritas is a leading TIC player having headquartered in Paris, France with worldwide operations in 140 countries having +80,000 employees with Annual Turnover of 4.7 Billion Euros
-Business Head for Germanischer Lloyd in Asian countries. Was deputed in Europe for 2 years to manage acquired entity named Swiss certification AG
-Auditing and Accreditation management for automotive business in KPMG Quality Registrar based in Mumbai
-Third Party Auditing and Training activities while in TUV Suddeutschland India
-Projects management for management system consultancy and Continual Improvement projects under Leading Consultancy Firm
-Worked in Engineering companies in the field of Mechanical Engineering
---