PULIN KUMAR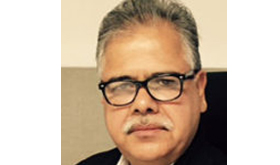 Pulin Kumar is a Group Senior Legal and Compliance Director of Adidas India. Currently he looks after the legal and compliance functions of the group i.e. adidas India and Reebok India. The mandate includes contract, compliance, litigation management and advisory of the legal commercial issues.
He is a commerce graduate from Patna University and graduated in law from Campus Law Centre, University of Delhi in the year 1991. He is also a PG Diploma in IR&PM from Bhartiya Vidya Bhavan, New Delhi. Pulin Kumar started his journey as in-house counsel from Indian and MNC conglomerates such as Montari Industries, Triveni Engineering, Ambuja Cements, New Holland Tractors, Jubilant Organosys, Samsung India and is currently with Adidas India group.
Pulin Kumar has been a part of many significant developments in law and compliance related to the corporate sector and has immensely contributed in this area. He has been actively participating in legal conferences. He also co-hosts a knowledge sharing platform "Sadgamaya" an informal association, founded by a few likeminded General Counsels and lawyers. He has been conferred with an award of the "General Counsel of the year 2015-Retail" by Indian National Bar Association (INBA). He has also been appointed as the Chairman of INBA's Retail Law Section.
---