ROUBLE KATARIA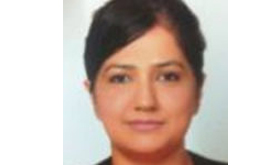 Rouble started her career in 1998 with Nestle in productions working at their Moga plant and worked on different projects with respect to the plant efficiencies. Post her strong learning's in operations, she made her way to QA and R&D which she always had a passion for and proved her Innovation capabilities in different categories. Some of the brands she served includes Cremica, Nirula, McDonalds She had developed a range of products in different categories like spices & flavours, syrups & preserves, snacks & extruded products and sauces & emulsions. During her experience of 18 years, she has faced real time challenges in snacking industry and had customer interface to cater the consumer expectations & demands. She had been instrumental in her past roles to develop "products for future" and create unique ingredients to give signature products to the brands like KFC, Pizza Hut and Taco Bell.
She has been leading product Innovations through her strength in R&D and participative style of leadership. Rouble has been awarded by several awards and trophies during this career span; few are "Action Hero award", "Food Safety award", "Best recipe award", "Innovation of the year award".
She is also a trained and certified for:
ISO
HACCP
Product Cutting & Evaluations
She has represented different companies at various forums as speaker or panel member like FICCI, PHD Chambers, different summits of state levels.
Rouble Kataria is currently leading Innovations & Training at Haldirams Snacks Pvt. Ltd. as Vice President. wherein she is actively working on product specific innovation projects, setting up the processes, excelling the training structure and setting up the R&D protocols.
She as a person has a very influential personality with excelling communication skills, precise decision making skills and passion towards Innovation in every aspect of life.
---