RAJESH MAHESHWARI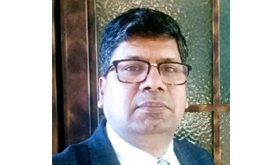 Appointed as CEO of National Accreditation Board for Certification Bodies (NABCB), a constituent Board of Quality Council of India (QCI) w.e.f. 01 Aug 2019. Also, the Director of Project Planning & Implementation Division of QCI, and responsible for Conceptualization, Planning & Management of various projects being executed by QCI.
Previously was responsible for managing Inspection Body Accreditation Program of NABCB as Joint Director. Working for QCI since Feb 2012. 
Had earlier worked for National Accreditation Board for Testing & Calibration Laboratories (NABL), then under the Department of Science & Technology (DST) for more than a decade, managing the Testing and Medical Laboratory Accreditation Programs of NABL. 
Prior to this, had worked in Specialty Chemicals Manufacturing Industry for about a decade.
Holds Masters in Chemistry (with specialization in Organic Chemistry) and MBA.
Having almost 3 decades of experience in industrial manufacturing as well as in standards, technical regulations, accreditation & conformity assessment. Has multi-disciplinary experience in Quality Assurance & Management, Production & Process Control, Product Development, Project Management etc. Also has experience in International Evaluations & Mutual Recognition Arrangements, Regional Cooperation in Accreditation.
Internationally, an APAC Evaluator for peer evaluation of Accreditation Bodies. Also, was WADA Assessor for assessment of Dope Testing Laboratories. Evaluated Accreditation Bodies in USA, Russia, Sri Lanka etc. Also, have done projects as an Expert on Accreditation with international organizations like IAEA, UNIDO etc.
---