B.S. NAGESH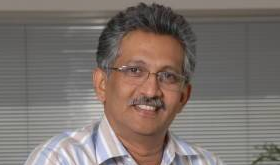 Mr. B.S. Nagesh has been a role model to the Indian retail industry and has served the industry for over 30 years.
In the year 2011, he has set up a Public Charitable Trust called TRRAIN (TRUST FOR RETAILERS AND RETAIL ASSOCIATES OF INDIA) and a Section 25 company called TRRAIN FOUNDATION with the objectives of developing skills of abled and disabled people in retail, create pride and respect for retailers and retail associates and provide healthcare and social security solutions. More information: www.trrain.org
Mr. Nagesh is also the Vice Chairman and Non–Executive Director of Shoppers Stop Limited. He has been with Shoppers Stop Ltd since its inception in 1991 and continues to be a strategic advisor to the management. Mr. Nagesh was also instrumental in acquiring of the Crossword chain of bookstores in the year 2000, and setting up and opening the country's largest hypermarket HyperCity (launched in May 2006). HyperCity has been declared as one of the top 100 retail destinations in the world by Retail Week, UK and the best hypermarket at the United States International Design Awards in New York.
As part of his personal philosophy of Learn, Earn & Return, Nagesh stepped down from all operational roles in the K. Raheja Corp Group in August 2009 at the age of 50.
Amongst his numerous achievements, Mr. Nagesh is the first Asian to be inducted into the "World Retail Hall of Fame" 2008 along with Mr. Millard Drexler of J Crew, Sir Philip Green of BHS and Arcadia and Mr. Amancio Ortega of Inditex at the World Retail Congress 2008 conducted in Barcelona. The four iconic retailers have been selected by retail industry leaders and experts from across the Globe in recognition of their supreme industry achievements. Shoppers Stop Ltd also won the 'Emerging Market Retailer of the Year' Award at the World Retail Congress 2008.
Mr. Nagesh has also been inducted into the Indian Retail Hall of Fame in the year 2012 at India Retail Forum (IRF). He was voted by Business India as one of the top 50 managers in India who will influence the Indian business scenario in the 21st century. Ernst & Young nominated him for the Entrepreneur of the Year Award 2005 as one of the top 30 finalists. CMAI recognised him as 'The Retail Professional of The year' for four consecutive years. Mr. Nagesh was also felicitated with 'The Best Professional of the Year' award at ICICI Bank, in 2005.
Before joining the K. Raheja Corp group in 1991 for Shoppers Stop Limited, Mr. Nagesh worked with Carona Ltd. (1988-1991) as its zonal manager retail for South & East controlling the operations of 128 stores in these two regions. He started his career as a Sales Officer in the Delhi branch of Blow Plast Ltd in 1982, Nagesh left Blow Plast in 1986 when he was the Area Manager for Vijaywada branch to Join Orson Electronics as the Branch Manager for Delhi, Haryana. (1986-1988).
---