Dr. Manish Pande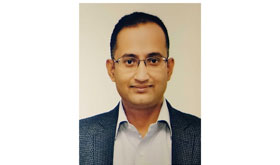 Dr. Manish Pande is Director and Head PAD Division at QCI, leading flagship governmental and intergovernmental initiatives such as the India National Platform on Private Sustainability Standards under the aegis of the UN, Drones Certification at the behest of the DGCA, GoI, Voluntary Certification Scheme for Medical Plant Produce (VCSMPP), INDGAP, Drones Certification for Min. of Civil Aviation, GI Goods Certification for DPIIT, GoI nodal for GLP Cell (with the National GLP Compliance Monitoring Authority – NGCMA of DST), instrumental in finalizing the National Interpretation Guidelines for GLOBALG.A.P. standard and GRASP for India, design and development of SAARC GAP etc. along with a host of other voluntary schemes administered under QCI. He has also initiated the international implementation of the Yoga Professional Certification Scheme.
With a progressive experience of over 20 years in the field of conformity assessment, he is responsible for design and implementation of various private, voluntary and international standards along with providing technical support, assistance, and stakeholder management with numerous industry associations, and governmental and intergovernmental bodies. He is also a trained and empaneled technical expert for NABCB and Accreditation Services International for FSC.
Dr. Pande is an expert member of various technical committees and working groups of Schemes that are run by the Government of India and its associate bodies. He has conducted several audits for agriculture based standards such as Organic as per NPOP (India), NOP (USDA – USA), EU; Good Agriculture Practices (GAP), GLOBALG.A.P., Round Table on Responsible Soy and forestry standards such as FSC and PEFC. In the past, he has worked with the Worldwide Fund (WWF) for Nature – India, SGS – a Swiss based MNC, and as independent consultant with the UNCTAD, FAO, and SAARC. He currently is the Chair of the National Platform and Initiative Cooperation Network of the UN Forum on Sustainability Standard, holds a Ph.D. in forestry from the Forest Research Institute and has received a Gold Medal for master's in forestry.
---