Deepak Sood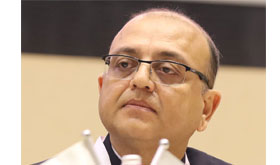 In last 26 years, Deepak has worked for the industry and government – in India and abroad, gaining and sharing valuable experience across sectors and geographies. He has worked for Foseco, (Burmah Castrol Company), Larsen and Toubro (L&T), Total Fina Elf, ABB and Confederation of Indian Industry (CII). In addition, he has closely worked with Ministries, both at the Centre and in States and has sound understanding of India's governance and industrial ecosystem.
As an Executive Director at Confederation of Indian Industry (CII), he led the Global Business Fairs Division, National Committees on – FMCG, Branding, Marketing, and Knowledge Management. He has worked extensively in the areas of Power Generation and Automation, Preventive Maintenance, Asset Management, Farm Mechanisation, Sugar Manufacturing, Mining and Capital Goods to name a few.
Deepak feels, the key to his success has been the hands-on Industrial experience during his early years. He continues to keep connect with the technical side and also keeps up with latest developments in most sectors.
He has been involved, since inception, with the core team of "Make in India" and actively participated at all meetings helping promote India opportunity, including organising some of the largest business meets of the Country in India and abroad. He has worked with multiple Ministries and Department, globally, especially Ministry of Commerce and Industry (MOCI), Ministry of Heavy Industries & Public Enterprises, Ministry of Railways and Department of Industrial Policy and promotion (DIPP) among others.
More recently, he was deputed to Government of Karnataka, as the CEO of Invest Karnataka Forum (IKF) set up by the State, as a Section 8 Company, to promote the State, across sectors for inward investments. He very actively led the global campaign chaired by the State Industry Minister. IKF also provided advisory services to Industries Department, Karnataka to improve its score on the Ease of Doing Business Index (EoDB) and closed on some very major investments. He was nominated for the State Level Single Window Project Clearance Committee (SLSWCC) for land allocation and projects up to 500 crores investments, chaired by the Industry Minister. He was also part of the State High Level Clearance Committee (SHLCC) for large projects chaired by the Chief Minister.
"Working on the other side of the table is an extremely challenging but highly enriching experience". It helps develop understandings that are otherwise very difficult to comprehend. "
He has been a speaker at multiple seminars, conferences and training programs and mentors young students, early stage Start-ups. Sustainable living and giving back to society is an important aspect of his life. Deepak takes this work very seriously.
---