DR. RAJIV KUMAR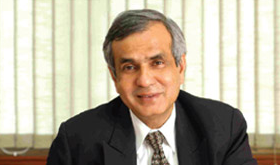 Dr. Rajiv Kumar, a leading Indian economist, is the Vice Chairman of NITI Aayog by the government of India. He is the author of several books on India's economy and national security and one of the country's leading columnist. His latest book 'Exploding Aspirations: Unlocking India's Future' (2104) is a collection of his columns.
He is also the Founding Director of Pahle India Foundation, a non-profit research organization that specializes in policy research and analysis.
In past he has served as Senior Fellow at the Center For Policy Research, (Delhi) and Chancellor of the Gokhale Institute of Economics and Politics (A Deemed University, Pune).
He was Secretary General of the Federation of Indian Chambers of Commerce and Industry (FICCI, 2010-2012); Director & Chief Executive of the Indian Council for Research on International Economic Relations (ICRIER, 2006-2010); and Chief Economist of the Confederation of India Industries (CII, 2004-2006.) He worked in the Asian Development Bank, Manila from 1995 to 2005. He joined the Government of India initially in the Ministry of Industries, Bureau of Costs and Prices (1989-1991) and then worked as Economic Advisor in the Department of Economic Affairs, Ministry of Finance (1992 to 1995). He was a professor at the Indian Institute of Foreign Trade, Delhi (1987-89) and research program officer at ICRIER from 1982 to 1987.
He presently serves on the Board of Management of several prestigious international and national institutions including, King Abdullah Petroleum Studies and Research Center, Riyadh; Economic Research Institute for ASEAN and Asia (ERIA) Jakarta; Indian Institute of Foreign Trade, Delhi; and Institute of Human Development, Delhi. He was a member of Government of India's National Security Advisory Board for 2006-2008 and a former member (2009-15) of the Central Board of the State Bank of India. He has a D.Phil. in Economics from Oxford University and a Ph. D from Lucknow University.
---